K.K. Ceramics
Co.,Ltd was name kittiroj Ceramics in the past. The factory has been established since January 5, 1982. It can be located in the area of about 12,600 square meter, with an Investment of Bht. 800,000.00 Which has been registered as ordinary business in the name of Mr.Chatchai Kittirojana. Lucklly, the support of his father Mr.Youngruaw Seaten help the factory.
At first the business has only 25 employees and produces docorative items which are useful such as; Vase,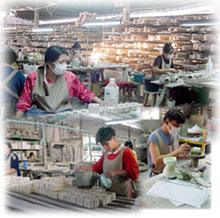 Flower Pot Piggy Bank, Ashtray, Teapot, Mug and different kinds of souvenlrs.
Mostly as customerís order from customers we mostly known for the past 10 years. And regular customers from our first factory since 1973. From then on, we became popular from our old customers and started exporting in some other countries. And we produce about 25,000 pcs per month.
In the year 1986 the factory has been expanded and Increased investment of Bht.800,000.00 To meet customers demand which is increasing rapidly. We have added 90 employees Production became 50,000 pcs per month. Customers are from other countries and local market.
Powered and Designed By 9Hosting.com © Copyright 2002 KK Ceramics Co.Ltd. All rights reserved.