The year 1989 there was again an expansion of another
building with an investment of 2 million and production had inceased 65,000 pcs per month. In the early year of 1989 our company has been selected as a member of Department, of Export and Promotion Ministry of Commerce Royal Thai Government which help us a lot.
To gain more customers and we export directly until 1991 The factory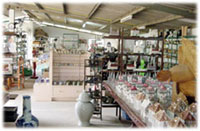 became a company and name: K.K. Ceramics Co.,Ltd. had increaed the investment for the third time to 7 million and employees to 120 persons.
Added machine with originality so that we could incroase production capacity to 100,000 pcs per month. Presently employees are approximatoly 125 akillfull persons. Export increase to

80% and local market about 20% Production capacity reach 120,000 pcs per month. Thercatter we expanded our export to U.S.A.,German, Switzerland, England, Holland, Sweden, Belgium, Auatralia, Hungary and Italy in Asia, Japan, Malaysia and Singapore.
Until presently we received an approval of Exclusive Exporters under Thailandís Brand in the year 1999 which has the right to export product with highest standard quality.
Powered and Designed By 9Hosting.com © Copyright 2002 KK Ceramics Co.Ltd. All rights reserved.